Mitsubishi Electric brings unmatched energy efficiency, performance and control to home cooling and heating. It's never been easier to keep everyone in your house comfortable, without spending a fortune on your energy bills.
A whole-home system from Mitsubishi Electric Cooling & Heating can help ensure better, fresher air in your home.
Advanced Multi-Stage Filtration
Capture and remove contaminants that trigger allergy and asthma symptoms, spread illness and impact air quality.
Platinum Deodorizing Filter
Available on select systems, Platinum Deodorizing filters use nanotechnology to absorb odors to neutralize the worst smells.
Washable Filters
Washable filters last up to 10 years and give you another way to save money and reduce environmental impact.
Mitsubishi Electric Zoned Comfort Solutions™ help you use the minimum amount of energy needed to maintain your desired indoor temperature.
Inverter-Compressor Technology
Conventional systems are either on or off. All or nothing. Our compressors ramp up or down based on the needs of each room to maintain comfort and conserve energy.
Zone-by-Zone Control
Control each zone in your home independently and even turn off zones that are not in use.
Energy Star Qualified
Many of our systems are ENERGY STAR qualified and may be eligible for federal and state tax credits or local utility rebates.
Our indoor units operate as low as 19dB(A), quieter than a human whisper. Outdoor units operate as low as 58 dB(A)—the level of a restaurant conversation or background music.
No Ducts, No Noise
Ductless solutions and short-run ducted systems deliver cooled and heated air directly to the rooms they serve, without the need for noisy fans.
Quiet by Design
All system components are designed to work in quiet harmony with details like an insulated compressor compartment and vibration dampeners.
No Noisy On and Off
You never have to hear the disruptive clanging of a central air system turning on and off again. With our systems, that noise is a thing of the past.
With a variety of options to choose from, including our new kumo cloud™ app, Mitsubishi Electric makes it easy to manage your cooling and heating systems from just about any smartphone or tablet, no matter where you are.
Remote Comfort
Remotely adjust your settings so every room in your home is the perfect temperature, avoiding unexpected cold and hot surprises upon your return.
Total Zone Control
RedLINK™ technology allows you to connect up to 16 devices to your cooling and heating system, without interfering with other wireless home devices.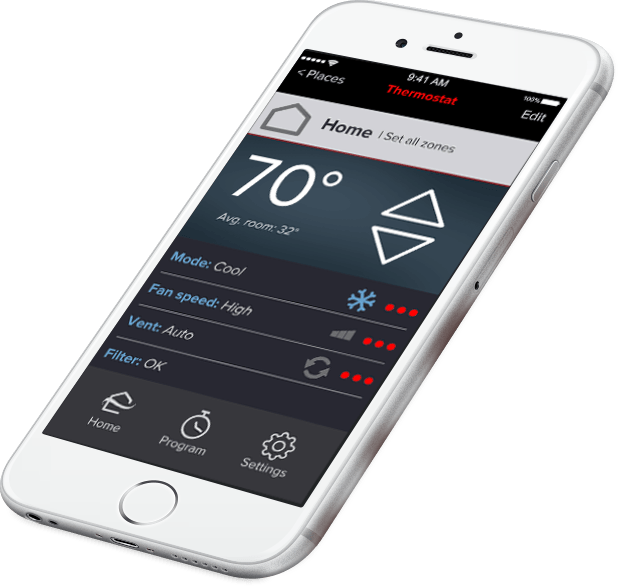 Mitsubishi Electric Zoned Comfort Solutions™, including our deluxe wall-mounted models, use advanced features like 3D i-see Sensor™ to monitor occupancy in individual zones and adjust the temperature so you are always comfortable.
Zoned Monitoring
Air handlers in each room measure return air and adjust automatically, rather than adjusting to conditions measured by a thermostat in a different room.
3D i-See Sensor
For select units, 3D i-see Sensor scans the room, detecting occupants' heat signatures, and adjusts temperature and airflow to maintain temperature and eliminate cold or hot spots.
Inverter Technology
Rather than turning on and off at certain temperature thresholds, INVERTER technology continuously ramps up or down to maintain the desired temperature.
Zoned Comfort Solutions
We provide you with advantages that you won't find in most traditional cooling and heating systems.